Have the Perfect Date for your Special Occasion?
Check our availability of your date using our online system.
For over 30 years Luke Renchan Entertainment has been one of the most highly accredited and reviewed DJ, Lighting, and Photo Booth companies in New England. We are well known for providing an excellent client experience, as well as an energetic, friendly and incredibly talented staff. LRE has all the elements to make sure any event is a success! Whether you are planning your wedding, corporate event or party, we make sure that your event is memorable and in tune with your personality, style and needs. Our goal is to make sure your experience as a client is the best it can possibly be! We pride ourselves on top notch planning and communication with you. Customer service and quality is our number one priority
Our award-winning event services are top-rated on The Knot and WeddingWire.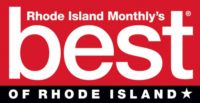 Ready to Get Started? For information on DJs, Lighting and Photo Booth call (401) 816-5496
or check your date availability below.
Luke is the best! He provided DJ Services and uplighting for our wedding at Ocean Cliff. Both were amazing. The uplighting really enhanced the beauty of our venue and he had everyone on the dance floor all night long (which was our #1 goal). Everyone had a blast!
-Allison
Luke and his team were amazing throughout the whole process. Between the planning, music selection and photo booth details not one thing was missed.
-Emily
My Husband and I chose Luke B. Renchan as our DJ for our wedding. He was the best decision for us. Our wedding was a blast. I knew he was going to blow us away but he went beyond. We had our first dance with dancing in the clouds and it was amazing.
-Jessica
Luke made our day fantastic, special and meaningful from beginning to the end. Luke and staff were prompt, easy to work with and friendly. Luke made our night personal. He provided music, photobooth and beautiful spot lighting onto every table and our cake. I cannot say enough about the quality and workmanship of this company. I would highly recommend them to any type of special event.
-Kale